3.main_start content
Welcome!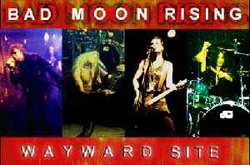 Welcome to a hard Rock band Bad Moon Rising Kal Swan and Doug Aldrich formed in 1990 web site
Bad Moon Rising has split out on November 10th, 1998

Statement
November 10, 1998
To all our friends,
From Kal Swan & Doug Aldrich
How are you all doning? Good we hope.
BMR has had some tough times as well, which leads us to the reason for this statement.
With an eight year career as a band, Bad Moon Rising now has decided to call it aday. It is very unfortunate, but we feel that we have done everything we could does BMR. We have always tried to produce the best possible music that we could. Sometimeswe tried new things to push ourselves, even though some people might not have agreed.Butwe believed in what we were doing. Now its time for everyone to carry on his ownway and go on to the next stage.
We are extremely grateful to all of you for all your support and work on our behalf.Ian and Jackie are also very proud to be a part of this family. As for the two ofus, we still have amazing memories from Lion.
Though we are heading for new destinations individually, we will never forget thetime we had in Bad Moon Rising with you,
Best Regards and Love,
Kal Swan & Doug Aldrich
[ Page Top ]